Shipping
Delivery Schedule
All orders placed on-line at pembertonfarms.com will ship out on the soonest available shipping day. If we receive your order prior to 12pm, Monday through Thursday, we will ship it via UPS on the same day. Otherwise, we will ship your gift on the next available business day. Whenever possible, we will deliver local gifts via courier on the same day.
If your gift's arrival is time sensitive, please call us for exact details at 1-800-551-7327. Please see details and exceptions below.
Delivery Methods
We deliver our gifts via two methods, local courier service and United Parcel Service (UPS).
Gifts that qualify for our local courier delivery service (greater Boston area) are delivered via our vehicles and should arrive at your recipient's destination the day the order is placed as long as we receive the order by noon (except on Saturdays, Sundays and holidays).
Gifts that are outside our local courier range are securely packaged in a sturdy shipping carton and shipped via UPS Ground Service. All UPS deliveries are shipped out on the next available business day (or same day depending on when we receive the order); we determine the shipping date based on the transit time it takes for the gift to arrive fresh.
Since most of our gifts are perishable we will not ship a gift if it will not arrive within the same week the order is placed. For example, if an order is placed on a Wednesday (after 2pm) and it takes two or more business days to arrive, we may hold the order and ship in on the following Monday to allow the gift to travel during consecutive business days. This will insure the gift does not sit at UPS over the weekend and potentially spoil. For more details on your gifts' exact shipping date you may contact us at 1-800-551-7327.
Shipping & Handling Charges
Due to the varying weights of our gifts (from 2 lbs to 35 lbs) our shipping rates are determined by the weight of the gift. As the map below shows, most gifts can be sent via UPS ground and they will arrive within 1-3 business days.
All perishable gifts, including fruits, meats, and cheeses being shipped to states that are 4 or more days travel time via UPS ground travel days may need to be shipped via UPS Air to guarantee freshness. These states include: AK, AR, AZ, CA, CO, HI, ID, KS, LA, OK, MT, NE, NM, NV, SD, TX, UT, WA and WY. Please refer to UPS map below or call us at 1-800-551-7327 for more details.
| Weight | For Ground | 3 Day Select | 2nd Day Air |
| --- | --- | --- | --- |
| Up to 10lbs. | $13.95 | $18.95 | $28.95 |
| 11 to 20lbs. | $16.95 | $35.95 | $47.95 |
| 21 to 30lbs. | $20.95 | $45.95 | $59.95 |
| 31 to 40lbs. | $25.95 | $54.95 | $70.95 |
| Over 41lbs. | Please Call | Please Call | Please Call |
Standard Delivery Guide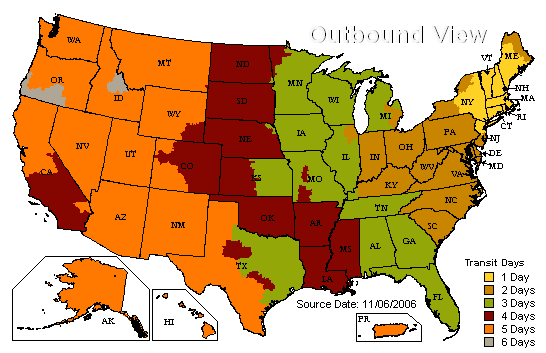 Shipments Outside Continental U.S.
Shipments to Alaska and Hawaii are shipped via UPS 2nd Day Air. Charges for this service are UPS 2nd Day air rate plus an additional $10.00. Foreign and Canadian deliveries will require additional shipping and handling charges, and are shipped via United States Postal Service with limited guarantees. Please call us for all orders outside the 50 U.S. States at 1-800-551-7327.
Shipping Perishable Products
To guarantee freshness, many food gifts must be delivered within 3 consecutive business days. Perishable items include fruit baskets, meats, cheeses and some baked goods. Warm climates, time of year and travel time will determine if UPS Air is needed. For questions please call us at 1-800-551-7327.
Wine & Liquor Gifts
By law, all wine and liquor gifts must be ordered by and delivered to persons of legal age within the state of Massachusetts.